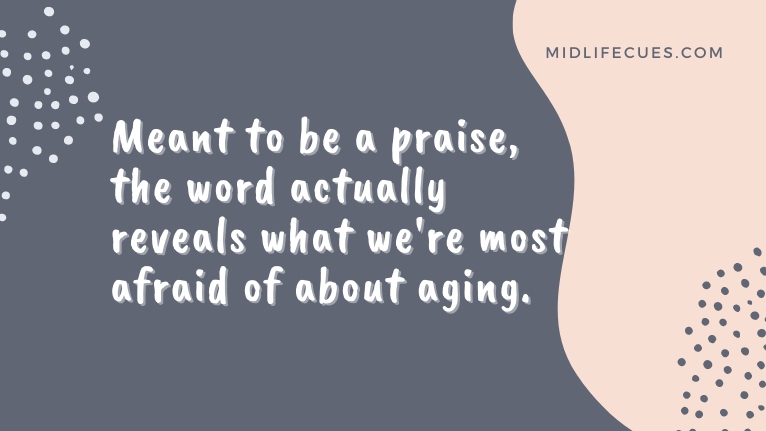 Namaste, my reader friend. Welcome to the 82nd issue of Midlife Cues, a weekly newsletter that explores the well-lived midlife. I appreciate you being here. Was this email forwarded to you? Thank the awesome person then sign-up for your copy here
---
THE MAIN THING …
That change is the one thing constant isn't breaking news. We've known this all our lives.
It doesn't stop us, though, for wishing things remain the same… or at least, that they don't change as fast.
In my family, I hear this desire loudest when we talk about how fast the kids are growing up. How can it be that they are teenagers now, learning how to drive?! Soon, they will be off to university and out of the house. ☹️ We keep wishing there was a way to stretch the time so we can enjoy them more before they fly the coop.
I couldn't wait to get older.
When I was in my teens, I couldn't wait to get older. I couldn't wait to finish HS and get to college. Then, I couldn't wait to graduate and start a new life, whatever that may be.
I couldn't wait to get my driver's license. Get to legal drinking age. Get my first apartment.
Were you the same way?
And this didn't really change throughout my 20s, 30s, and 40s. "I couldn't wait…" for so many things to happen.
The first true love and first real relationship. Getting married. Buying our home. Buying my first car. Then my dream car(s). Getting promoted. Then again. And again.
So many, I can't list them all here.
And then, it stopped. Or rather, it slowed down. Somehow, somewhere in my late 40s, I stopped feeling the anticipation for new things happening.
Instead, I started to feel the desire for more and more things to remain the same.
The Tyranny of Still
Dr. Bill Thomas, co-founder of ChangingAging — a platform that challenges conventional views about aging, wrote about the tyranny of that other word, "still".
He says this word is one of the most disabling and demeaning five-letter words in the English language. It derives its power largely from our culture's collective fear of age and aging.
Everyone understands this game and knows how it's played. Nieces and nephews boast, "My Aunt Myrtle, she still drives." Sons and daughters brag "My Dad, he's 82, and you better believe it, he still works five days a week." Not even great-grandchildren can resist — "Ohpah turned 94 this month. He just got back from climbing Pike's Peak. He's in Florida and he still water skis— barefoot— in the nude!"
Thomas notes — correctly so — that we live in a society where older people are deemed worthy only to the degree that they think and act like younger people. And when they can no longer "still" do the things that adults are supposed to do, they disappear from society.
The word "still" is intended as praise but actually serves to wound and diminish older people. The prominent place it holds in our lexicon, reminds us that, when it comes to people living in the latter decades of life, success is defined by the absence of "change, interruption, or cessation." It is a peculiar conception of human life that equates "success" with a lack of change. Our use of the word "still" reveals an ordinarily unstated assumption: In contemporary American society, any deviation from the parameters of vigorous adulthood, by definition, carries the stigma of failure.
Changing my attitude
Although I'm decades away from the point that Dr. Thomas referred to in his article, I recognize it quite clearly.
I realized a few years ago that if I didn't change my attitude about aging STAT — as in, not wait until in my 70s to change it! — that it will simply continue to seep into my day-to-day life and color the way I see the world from hereon.
I didn't want that! I want to embrace this part of my life, marvel at the changes happening within me and around me, and be surrounded by equally-minded people who are celebrating each phase of our lives.
It takes work. It takes owning and addressing my fears. It takes change.
But then again, change is THE constant, right?
Bottom Line
We are all getting older. ALL OF US. No matter how we look or how we feel. And it's a blessing too, because if we're not getting older, then we're six feet under.
Rather than fighting it, or hopelessly holding on to years long gone, isn't it better to embrace this stage in our life?
The more we show that we're accepting and living well in our midlife, the more we help shatter the stigma of aging. If you think about it, it's one way we can help the younger generation look forward to their midlife. Wouldn't it be amazing if that's the legacy our generation leaves behind?
---
SPONSOR
this, this, and that
Here are but a few of the magazines I get as part of my Scribd subscription: The Atlantic, Inc. WellBeing, Fast Company, Creative NonFiction, Clean Eating, The Writer.
My subscription — which is less than Amazon's Kindle Unlimited — gives me access to magazines, books, AND audiobooks. No need for a separate Audible account anymore. And you can read all of these on your smartphone or tablet.
Use this link for a 60-day trial period. Easy peasy.
---
INTERESTINGLY…
---
MULL IT OVER
"What if instead of seeing aging as something to defeat and conquer, we were to embrace what gets better with age, and work to amplify these joys while mitigating the losses of youth? I'm not suggesting we paper over the very real challenges, both physical and mental, that come with aging. But can we view these challenges without judgment or shame and instead look for joyful ways to navigate them?" — Ingrid Fetell Lee, author of "Joyful: The Surprising Power of Ordinary Things to Create Extraordinary Happiness"
---
TALK TO ME
How do you feel about being in midlife? Do you find yourself wishing you were younger still? Or have you embraced it all?
Hit 'reply' and let me know. I'd love to hear from you!
---
READER SHOUT OUT
I am dedicating this space for the bold and brave midlife Midlife Cues readers 🧡 If you've got a project — a podcast, a new website, a product, service, artwork, etc. — that you'd like to get featured here, hit 'reply' and tell me about it. I would love to support you!
---
REMEMBER THE TIME…
Hit me baby one more time.
Britney Spears' first ever hit was released in late September some twenty-three years ago and the world of pop music has never been the same. The song reached the Billboard Hot 100 charts in the US within two months of release. And it reached the top spot in every European country in which it charted.
That's something considering Britney's fairly limited vocal limitations (ahem).
Says Amanda Murray of Sputnikmusic, "Baby One More Time will be long remembered as one of the cornerstones of pop music in general, and it is a strong front-runner as the prototype for the late 90s pop resurgence."
---
WHAT'S PLAYING
Menopause: Truth or Consequence
Society does a great job at conditioning us that menopause is the end of everything happy and desirable about womanhood. We support this narrative by not openly talking about menopause … or ONLY talking about our negative experiences. The truth is there are many strategies that we can use — and talk about! — that helps not only make the peri and post-menopausal years easier on ourselves. We can make this a magical period even.
In this latest episode, I'm joined by health coach and author of The Magic of Menopause, Lorraine Miano. And we talk all things menopause, including sex post-menopause, cortisol management, and proper moisturizing of our vaginal area. AND WHY doctors are often dismissive about our women issues.
---
LAST WORD
A few episodes ago on the podcast, I confessed that I had not always been a champion of embracing midlife. 🤭
It wasn't that I was against it. Rather, it just was not something I thought about or considered. It was akin to averting my eyes or looking the other way.
The first time I stared it squarely in the eyes was a few years ago when I had to undergo surgery that effectively made me post-menopausal overnight.
I recognized then that I was harboring unaddressed (and mostly unbeknownst to me) fears about aging. And these fears were at the core of why I was ignoring my midlife-ness.
Well, suffice it to say, I've been on a steep learning curve since and have been actively changing my attitude and perceptions around midlife and aging. You may say, this is the origin story of this newsletter 😉
I learned a ton from this week's episode with Lorraine Miano about menopause. And she's truly a model for one who's embraced midlife. I hope you give it a listen. And if you happen to be a male reader friend, there's something for you to learn in that episode too!
Here's to an easeful and peaceful week ahead.
Cool beans,
Lou Blaser
P.S. If you like and find value in this, newsletter and want to support it, you can buy me a coffee here! It helps with the research and writing. 😊